In 2014, Naval Admiral William McRaven had the honor of giving the commencement speech to the graduates of the University of Texas at Austin. In his speech, he presented 10 Life Lessons he learned as a Navy SEAL.
You normally wouldn't think that a Navy SEAL admiral's speech is relevant to fitness, strength conditioning and the coaching and training of athletes.
BUT . . .
…just like Admiral McRaven said, those lessons he learned are lessons that can be applied to anything, including strength and fitness training.
The Life Lessons of Admiral McRaven's commencement speech can be summarized as follows:
To change the world:
1) "If you want to change the world, start off by making your bed."
Disciplined
Discipline is one of the most important qualities of a good fitness coach and athlete, as the trainees are supposed to follow the rules. These rules must not be broken, and if the students fail to follow them, relevant discipline measures must be taken.
A fitness coach must be capable of leading by example. This means that the coach should also follow the same rules the students are expected to adhere to. A good fitness coach must have the professionalism and passion required to teach effectively, as well as show a clear commitment to his work all the time.
A fitness trainer or strength coach helps you determine the right workout exercises that you need to do and how to do them properly.
(Note:  If you want more coaching or guidance after reading this post, check out our Top 100+ Main Lift Exercise Variations.)
He motivates you and corrects your mistakes. Aside from this…
…he makes sure that any weakness or imbalances are addressed through your accessory exercises.
In other words, a fitness trainer is a qualified professional whose goal is to ensure you achieve your fitness goals through the routine that he makes.
2) "If you want to change the world, find someone to help you paddle."
Although it's good to try out new things by yourself…
…you'll have to reconsider this decision when you're looking into getting fitter.
There's always a possibility that things may not work out very well for you if you do things alone.
If you want to get the best strength training program, you have to work with a good fitness coach or personal trainer and train with intensity.
3) "If you want to change the world, measure a person by the size of their heart, not the size of their flippers."
You must train with a purpose in order to get the results that you seek.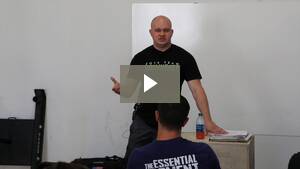 4)"If you want to change the world, get over being a sugar cookie and keep moving forward."
Sports, like life, also has its ups and downs.
Sometimes you win, sometimes you lose. However, that doesn't mean you have to "ring the bell." Life is unfair and so is sport. The games that you play sometimes can be tough and you will fail.
Sometimes, there are those "bullies" who look down on you and sometimes, you lose hope. It is in these times that you have to "lift" yourself up and be the beacon of hope to those who are dejected of spirits.
5) "But if you want to change the world, don't be afraid of the circuses."
Your failure means you can improve and become better than you already are. It means more opportunity and more time.
If you get a taste of victory, stay humble.
Don't judge those that are not succeeding…
…but instead be someone that will inspire them.
What matters most of all is your health and longevity.
It is okay to work hard…
…but never to the point of sacrificing your health over strength training.
Everything is all about moderation…
…eat a balanced diet, train optimally, get enough sleep, drink lots of water and work out.
6) "If you want to change the world, sometimes you have to slide down the obstacle head first."
7) "So, If you want to change the world, don't back down from the sharks."
8) "If you want to change the world, you must be your very best in the darkest moment."
Are you prepared to work through harsh conditions?
Adversity may cause some to work harder and others to quit. Are you prepared to work through tough times?
Can you recover when you face defeat? What matters most is how many times you rise from the challenge and not the number of times you fail.
When you give your best, you'll never lose, even if time runs out.
Are you prepared to sacrifice to be a great coach/athlete?
Sports are about the preparation you do. It's not only about the competition. This means maintaining an exercise regimen, getting enough rest, eating right and spending time in the gym. If you do things halfheartedly, do you think great results will come out?
Preparing yourself for all possibilities will give you the best possible chance of playing to your best. This means practicing, which requires sacrifice.
9) "So if you want to change the world, start singing when you're up to your neck in mud."
The coach and athlete should also be able to inspire and motivate his students.
He should display enthusiasm and a positive attitude. It's important for you to believe in yourself…
…and you can only achieve this if someone is giving you encouragement by inspiring you.
This can be attained if performance goals and outcomes are determined clearly.
10) "If you want to change the world, don't ever, ever ring the bell."
Strength conditioning and training of athletes require painstaking trainings. They have to constantly train in order to get better and to become mentally tough.
Just like in military training, these people undergo a lot of physical and mental stress. Not only do they have to toughen their bodies, but their minds as well.
Sometimes, strength training can be so hard that you want to give up or give in.
DON'T!!
Every time you overcome a tough situation, you will be rewarded with not just a sense of pride, but also added strength and resilience. Toughness reaps toughness in you.
Although straightforward and simple, Admiral McRaven's Life Lessons are, in fact, profound…
They are basic but they are nonetheless things that everyone should know in order to have a optimal life and be a better person who can make even a small difference in this world. To put a finer point on it, each of Admiral McRaven's Life Lessons is, in fact, a universal truth that we all should strive to apply to our lives.
At bottom, these life lessons are simply about being a responsible person who strives no matter what problems surface and then leads others to do the same. It's about never giving up in life despite the hardships. It's about facing down your enemy and raising yourself again after failure or defeat. It's about boldness of act and staking everything to achieve your dreams.
Successful health or strength conditioning and the training of athletes, requires not only physical strength, but—probably to an even greater extent—mental strength as well. Athletes need a disciplined mind, a tough mental state, to endure rigorous fitness training for health and sport reasons. Admiral McRaven's Life Lessons promote theses goals.